Satellite Photos Reveal Extent Of Damage From Iranian Strike On Air Base In Iraq
https://www.npr.org/2020/01/08/79451703 ... 8512613959
https://www.businessinsider.com/satelli ... ?r=US&IR=T
https://edition.cnn.com/2020/01/08/poli ... index.html
Satellite photos taken Wednesday show that an Iranian missile strike has caused extensive damage at the Ain al-Assad air base in Iraq, which hosts U.S. and coalition troops.

The photos, taken by the commercial company Planet and shared with NPR via the Middlebury Institute of International Studies at Monterey, show hangars and buildings hit hard by a barrage of Iranian missiles that were fired early Wednesday morning local time.

At least five structures were damaged in the attack on the base in Anbar province, which apparently was precise enough to hit individual buildings. "Some of the locations struck look like the missiles hit dead center," says David Schmerler, an analyst with the Middlebury Institute.
https://www.thedrive.com/the-war-zone/3 ... se-in-iraq
The U.S. government has also now confirmed that it did not shoot down any incoming missiles. It did not, at least at the time of the strikes, have any ballistic missile defenses in place in Iraq ostensibly because its forces were postured to fight ISIS, which does not have these weapons.
More on this ...
https://mobile.twitter.com/LucasFoxNews ... 6093437952
https://mobile.twitter.com/JenGriffinFN ... 3457973251
The US has Patriot missile batteries guarding strategic assets in Baghdad and guarding bases in the region: Kuwait, Qatar etc. NOT guarding Al Asad or Erbil bases. Most of Iran's ballistic missiles are pointed at American bases in the Gulf - Qatar, UAE, Kuwait.

The US had repositioned its forces after the Soleimani killing from small outposts to the larger protected bases. The 82nd airborne which flew in from Ft Bragg remained in Kuwait because they were protected by a "Patriot missile defense shield umbrella," I am told.
High resolution
https://s5.gifyu.com/images/highres.jpg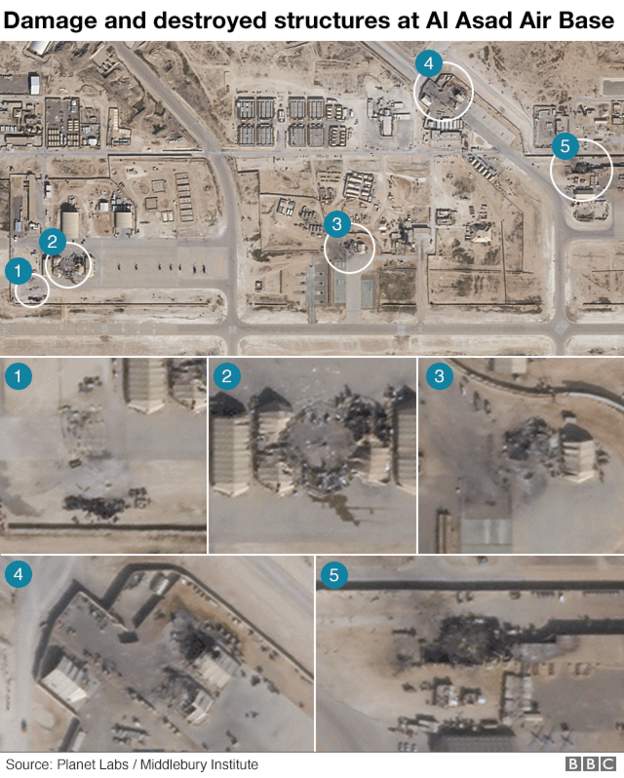 https://mobile.twitter.com/saraecook/st ... 4145514498
Sara Cook
@saraecook
NEW per
@CBSDavidMartin
: A DOD official says the US had "multiple hours" warning of an attack, plenty of time for troops to take shelter in bunkers. This warning came from a combo of satellites and signals and communications intercepts – the same systems that watch for NK tests