disconnectedradical wrote:I'm all for realistic assessment of capabilities but dismissing Russian and Chinese

cultures

as failures seem too far.
Show me 3 users all equipped with the same weapons and resources, and I'll show you 3 totally different outcomes.
Show me the culture that drives the organizations.
I also pointed out the extreme quantity advantage we have, even only including PACOM forces.
Then we can talk about training and institutional knowledge.
I'm not making these arguments from a Nationalist or patriotic perspective, as I think those can really create confirmation bias and circular reasoning.
Instead, I'm looking at:
1. Culture
2. Military history
3. Systems of Systems critical nodes (AWACS, EW, R-, theater-ranged weapons, satellites, KCs, carriers, ASW)
4. Peripheral combat systems (fighters, attack, medium bombers, and their weapons)
5. Current and historical training continuum with the above systems
6. National political and military leadership
7. Economic position
8. Geographic position
Across those 8 parameters, China doesn't fair so well at all.
1. Culturally
, they're about as backwards and savage as you can get, more comparable with sub-Saharan Africa, smashed with a large coastline with many deep sea ports that give hundreds of millions of uneducated peasants and economic slaves the opportunity to plug into the global trade scheme. We're talking about a people who boil food in sewage water in large cauldrons on the streets still.
2. Chinese military history
is shamefully plagued with loss-after-loss with every regional power in their sphere. Only exception is when the Japanese empire was forced to leave Manchuria after the US defeated Japan, and China just happened to be allied with guess who? (the US in World War II).
3. SoS Nodes:
They have been scrambling to microwave-cook a ready meal of systems of systems, even claiming superiority over the US in this area, which is painfully-exposing to their true state. When the US controls the technology transfers of these types of systems, and the Russians aren't very helpful either, it's a vertical uphill battle. This is compounded by the fact that the US and our allies in PACOM have numerical and training/interoperability superiority with AWACS, EW, RC, and the emerging fleet of JSF who are their own AWACS network. Add to the fact of how few aerial refueling tankers they have (3), and it isn't looking so hot anymore.
4. Peripheral Combat Systems:
Their Flankers, 236 J-10s, 388 J-7s, medium bombers, missiles, prototype J-20s and J-31s are all unproven, untested, linked to the small amount of KJ-2000s and KJ-200s they have. The only
proven
fighter they have that is still in operational service is the J-7 (MiG-21 copy-they claim 388 active in service). It sure is a proven system though, with an exchange ratio of 240 A2A kills (mostly from Egypt and Syria, followed by North Vietnam against 2nd and 3rd Gen jets), with 501 losses. The MiG-21 has been fodder for the F-15C and F-16A since 1979. Why China is still operating 388 J-7's is anyone's guess.
5. Training Continuum:
How many Blue Air wings do they have that exploit and simulate USAF, USN, USMC, Japanese AF, ROKAF, Taiwanese AF 4th and 5th Gen fighters? How well do they execute aerial refueling with 3 tankers in an attempted break-out from an allied containment campaign?
6. Leadership:
What's their national decision-making dynamic like? Is it filled with plenty of knowledgeable advisors, or is it being transformed into a dictatorship with the singularity of power in the hands of Xi Jinping? Do they war-game realistic campaigns showing true US and allied capabilities, or are they looking at their glossy paint parades and beaming with pride at how spotless all the uniforms are, down to the arresting gear green shirts on their carrier decks.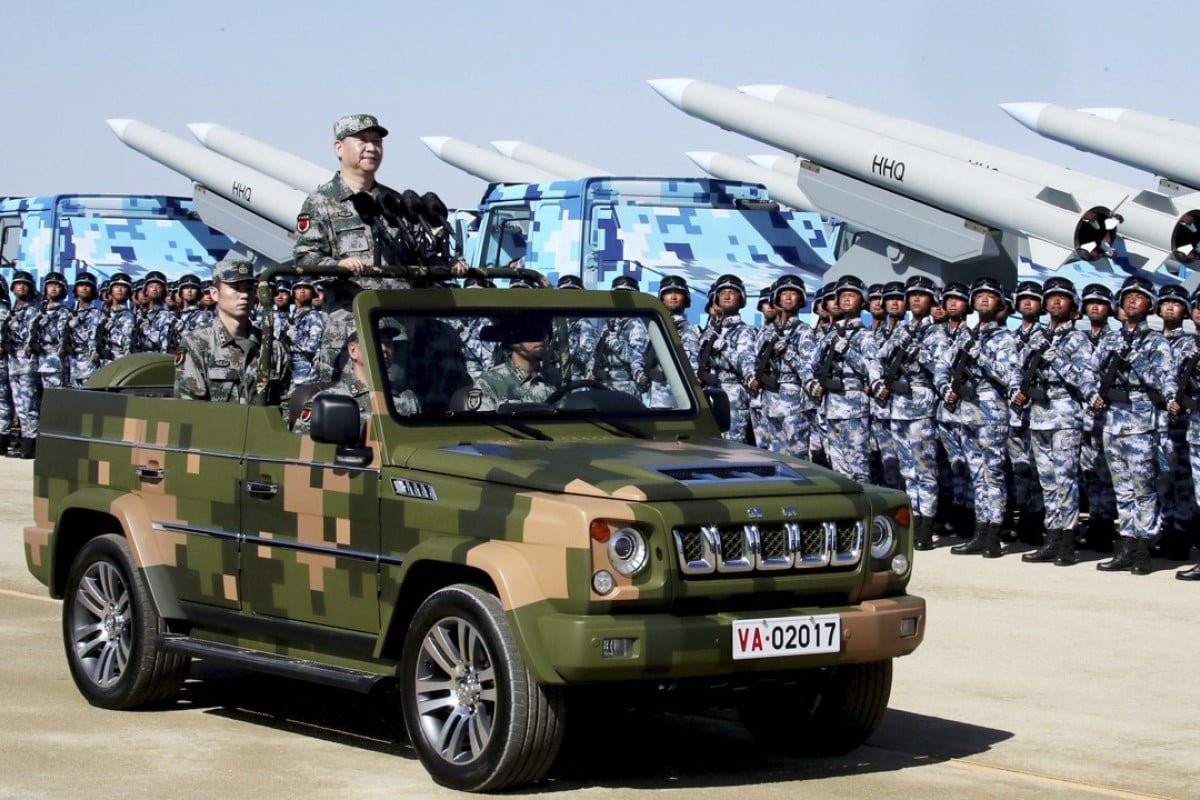 7. Economy:
Their entire economy has been built on a Ponzi scheme, built on rubble over the past generation where contractors and local or regional leaders are rewarded for demonstrating growth, mainly in the form of construction. That has left entire cities built out of the lowest-grade concrete known to the 21st century, sprayed on sub frame facades to appear to be stylish and modern. Buildings that have been erected during this period are now literally falling to the ground, sometimes fully inhabited. It's similar to Khrushchev's 5-year plans for government project housing, only the Russian ones actually stood up to the present (complete with rust, feces, and urine tap water).
Now that Chinese investors look around at their own crumbling society, they instinctively know they need to invest outside of the country, just like the Japanese did in the 1980s before the crash. That's why Xi started strangling power and tying things up in the attempt to prevent capital flight and the cavitation of their economy...while the builders continue to erect apartments in the middle of nowhere.
8. China's geographic position
is one of a contrast of regional containment, internal fragmentation and divide, along with major access to the South China Sea. As soon as any Chinese naval vessel points its bow away from the Chinese coast, it runs into a number of problems. The first one is this historical dominant naval power called Japan, the second is the natural containment ring of islands and other regional rivals in Southeast Asia and the Philippines.
There is no way to innovate out of that stranglehold. No amount of paying into the Clinton's campaigns, stealing LM IP, buying off Diane Feinswine, penetrating the WH, Lincoln Bedroom, or B-2 program can make up for their geographic containment. This includes trying to fart out islands all over in other people's territorial waters within the first island chain.
In every critical parameter, China is not only in a state of major disadvantage, but on the verge of societal collapse/revolution due to the fundamental instability of the coastal and interior political-economic struggles that have historically been the linchpin of the rise and fall of mainland China's civilization. Add to that the ability Chinese citizens now have to get a peak of what it's like outside of their cesspool, and the internal political pressure-cooker starts blowing steam.
But don't mind me, let's get back to debating about how the J-20 is going to be a game-changer in PACOM! I'm all about scaring the USAF and USN into demanding the next generation combat system from our contractors so we maintain our bleeding edge gap between feces-scarfing savages, I really am. Looking forward to PCA with hypersonic penetration mission profile and death beams from a graphene-integrated, holistic power-management, multi-source watt generation system from the 6th Gen variable cycle engines, that blends photovoltaic current through the optical camouflage, radar and laser-absorbing, variable geometry skin frame into flaming Flankers from Fang Dong.
Release the dogs of war!